The Stress Release Formula Deep Moisturizing Lotion combines the wild flowers of Lehua, Kinehe and Yellow Ginger. These flowers are carefully hand gathered and made into our healing flower essences which combine to release stress bring relaxation. This rich and creamy lotion absorbs easily into the skin and glides over the body well, making it an excellent choice for massage. Infused with vitamins A, D, E which are anti-oxidants that protect and restore the skin and maintain overall health. Vitamin D naturally occurs in skin cells making it excellent for repairing & healing the skin. Refreshingly scented with lemongrass vanilla essential oils.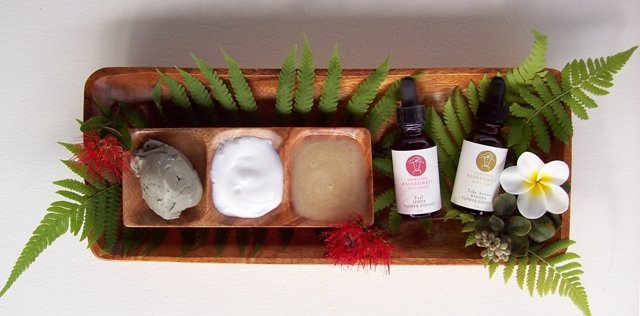 The Soul Of A Woman Deep Moisturizing Lotion combines wild Lehua, White Ginger, Mango and Banana flower essences into a vitamin and nutrient rich lotion excellent for massage and daily use. These flowers hand gathered in the rainforests of Hawaii create the Soul Of A Woman Flower Essence Formula, designed to release a woman's tense feelings and connect her to the beauty within. Infused with vitamins A, D& E, anti-oxidants that protect & restore the skin and maintain overall health. Vitamin D an essential element in skin cells, is good for repairing the skin and is also a great moisturizer. This rich and creamy formulation absorbs easily into the skin and glides over the body well making it an excellent choice for massage.
Hawaiian Salt Scrubs
Mineral rich exfoliating Pacific Ocean salts blended with Hawaiian plant oils & extracts. When applied they naturally remove old skin cells, improve circulation and deeply moisturize. Restoring and healing; creating firm, soft and glowing skin. Rich exotic oils & minerals nourish the body; leaving your client feeling relaxed and radiant.
VITALITY: with Hawaiian grown ginger and kukui oil, both used medicinally since ancient times, warms the skin and stimulates circulation to release deep seated tension leaving your client feeling vitally alive.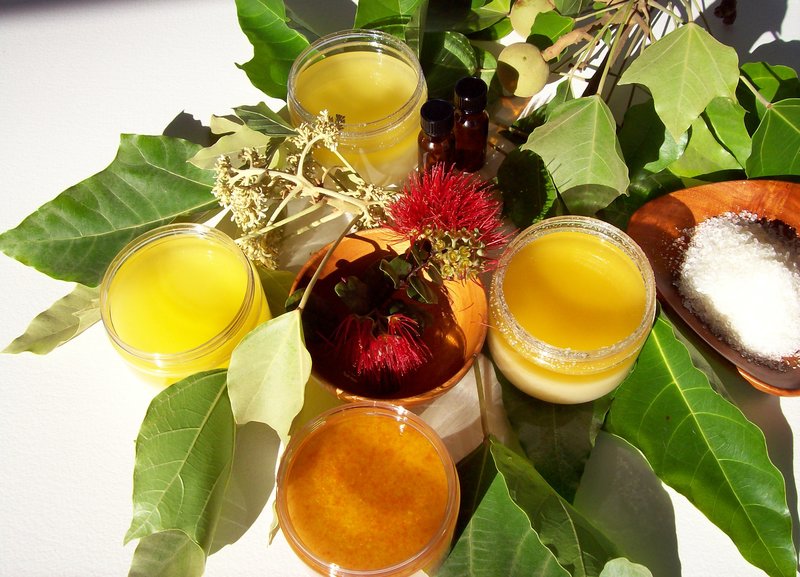 SURGE: healing kukui oil with cleansing citrus essential oils to stimulate the lymphatic system, boosting drainage and circulation. Excellent for dry & damaged skin.
BODY ALIVE: with Hawaiian vanilla bean oil to tempt your senses. Exceptionally soothing and sensual, excellent for couples. Delicious!
EARTH ENERGY: resonant and rich Hawaiian 'Alaea clay pulls out toxic tensions. Deeply relaxing and grounding.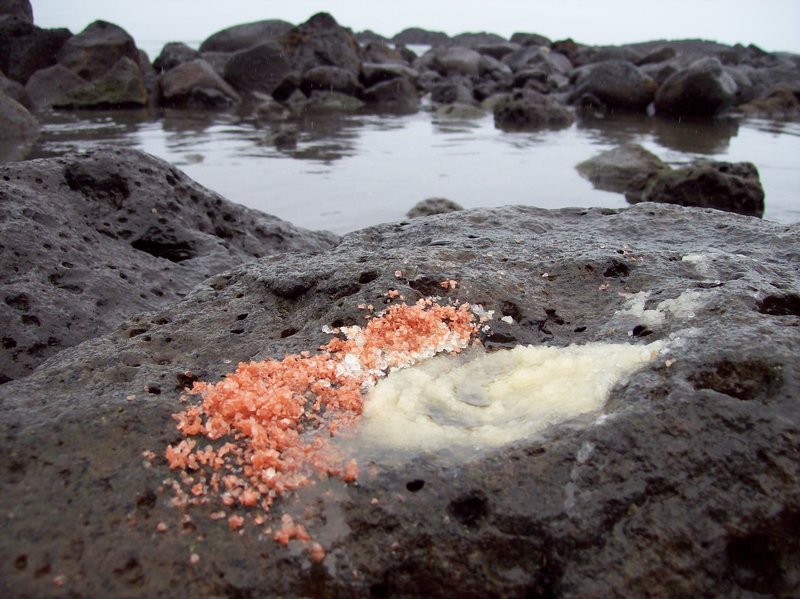 Create the ultimate bathing experience for your clients with our all natural healing baths. Made with only the finest natural ingredients and scented only with essential oils. Our bath crystals contain no synthetic ingredients and no artificial colors.
NATURAL BLISS: Wild flower essences of Lehua, Azalea and Bamboo Orchids create overall rejuvenation leaving your clients feeling relaxed and blissful.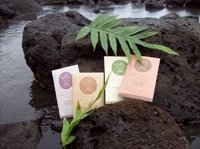 SOUL OF A WOMAN: Wild Lehua, White Ginger, Mango and Banana flowers combine to release a woman's tense feelings and connect her to the beauty within.
SOUL FIRE FOR MEN: Wild Lehua, Yellow Ginger, Papaya and Rose are created into this powerful formula to release a man's mind and body tension leaving him feeling confident and satisfied.
STRESS RELEASE FORMULA: The healing essences of wild Lehua, Kinehe and Yellow Ginger combine to release stress and bring relaxation for mind and body.
WILD ORCHID PLEASURE BATHWild Orchids and Gardenias combine to open your heart so you can feel the pleasure of your spirit. Truly a joyful experience!
---

Lomilomi
– Treatments –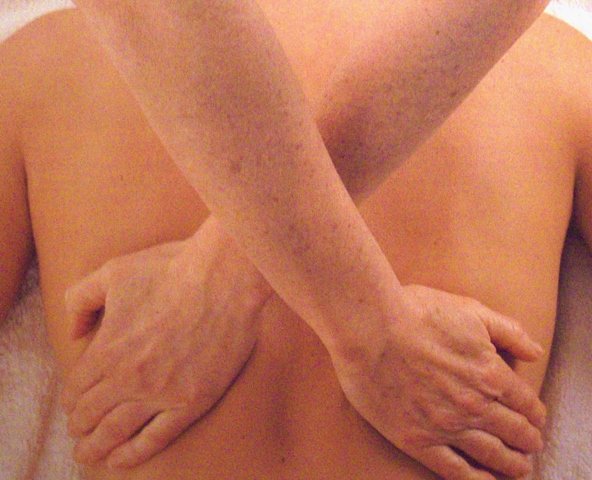 Ti Mamãki Mud with a fresh Ti leaf body wrap, drawing out toxins and renewing health; Deep Tissue Lomilomi incorporating traditional Hawaiian Lomilomi style; Energizing Lomilomi bringing balance and restoring energy. Specialized treatments for men & women; 'Awa scalp Soother to soothe the muscles and clear the mind; Lomilomi foot massage with pohakū & ti leaf. These sum up just a few of our available treatments. With over 20 years of experience, we specialize in creating custom rituals and products to best serve your needs & augment the mission of your spa. Complementary training is available with a minimum opening order.
The rainforests of Hawaii contain some of the most unique and rare species of birds, plants and insects, evolving here in isolation. Also evolved is an ancient culture, an ancient style of living as a part of nature - not separate from the source, but with reverence for all things. It is from this place that we bring forth our flower essences, our treatments and our company Hawaiian Rainforest Naturals.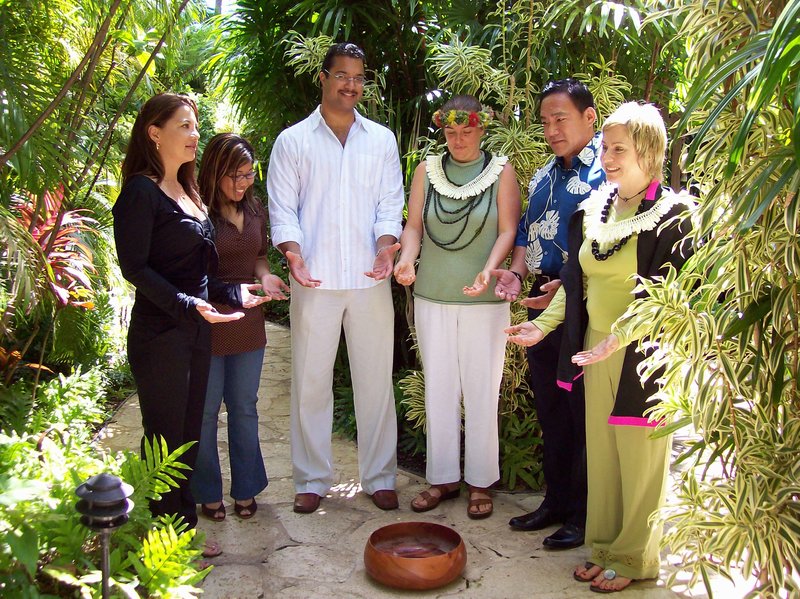 Mahalo!
Please contact us for more information
Wholesale@hawaiianrainforestnaturals.com
---
Testimony & Praise for
Hawaiian Rainforest Naturals


…I have used the Soul of a Woman Body lotion on my feet and I'm so amazed
at the healing that's taking place. I'm not really sure what's up with my feet, but whatever it is,
your lotion is making a major difference…
BK, Louisiana
While in Honolulu last week I purchased some Relax essence and it is awesome!
I want to re-order and know more about your other products…
JP, California
...I stumbled upon your body lotion, "Soul of a Woman" while in a small shop on the Big Island. It is EXQUISITE!!! I've since ordered two more bottles and received a complimentary packet of your bath crystals, which I found as beautiful and amazing. I have very dry skin and am always on the hunt for true lotions. I absolutely LOVE your products! They are intensely delicate, magic.
Bravo
L.J., Washington
…On a recent trip to the Big Island I purchased the Soul Of A Woman Mist, it's wonderful and very uplifting…
MZ, Mililani
It is the ultimate in sensual luxury…
SB, Colorado
…Can you please tell me where I can purchase the Soul Fire For Men line?
Both my housemate and I are out of the Botanical Mist, HELP!!!!
DJ, Honolulu
I bought the Soul Fire For Men aftershave while I was in Hawaii
and have enjoyed using it so much…
MK, Australia
…I just received & used the Soul Fire For Men bath crystals and I LOVE IT! How can I get more?
AJ, Florida
...your new formulas are wonderful!! I especially like the Soul Of A Woman. Thank you…
CS, Honolulu
We have become addicted to your bath crystals and miss them! A great way to relax after the stresses of each day…
JB, Hilo
…got home from a 350 mile drive and took your stress release bath. Worked great. Keep up the good work. Shipment arrived fine, thanks…
KF, Illinois
…The Stress Release Formula came at a very appropriate time. Thank you. Enclosed is a small order. It comes with love and gratitude for you initiative in creating local business and promoting natural products. Peace and Aloha
MR, Honolulu